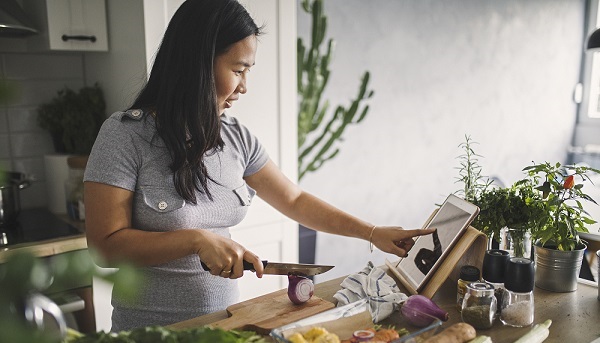 WHITE CHILI
Want that warm chili flavor, but feeling like chicken instead of beef?
White Chili is the perfect answer. It can also be made with ground turkey or ground chicken. Be creative and make your own low-fat, high-protein chili!
1½ pounds boneless, skinless chicken breasts, cut into bite-sized chunks
1 large onion, chopped
2 cloves garlic, minced
2 teaspoons ground cumin
1½ teaspoons dried oregano
1 (14 ounce) can low-sodium chicken broth
1 (10 ounce) can Ro-tel™* tomatoes, drained
2 (14.5 ounce) cans great northern beans, drained
2 cups shredded 2% reduced-fat Mexican blend cheese
Spray a large stock pot with nonstick cooking spray and heat over medium high heat. Add onion, and cook until slightly translucent, about 2-3 minutes.
Add chicken and garlic. Sauté until chicken is cooked though. Add cumin, oregano, chicken broth, Ro-tel™*, and beans. Simmer for 20 minutes.
Turn off heat, and stir in cheese. Salt and pepper to taste. Serve hot.
Top with fat-free Greek yogurt and sliced green onions if desired.