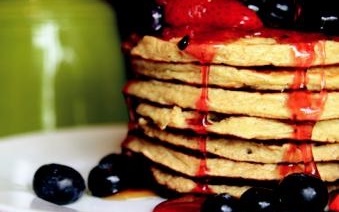 POWER OAT PANCAKES WITH WILD BERRY MAPLE SYRUP
Miss those old Saturday morning pancakes? Don't throw your noble health goals out the window just for some fried flour! These pancakes are just as delicious, and you get the benefit of the fiber from the oats and the protein from the cottage cheese. You'll have energy for the entire day.
2 eggs
1 cup low-fat cottage cheese
½ small ripe banana
2 tablespoons your favorite sugar alternative, such as Splenda™, Truvia™, or stevia (optional)
1 cup uncooked quick one-minute oats
½ teaspoon baking powder
1 teaspoon vanilla extract
1 teaspoon ground cinnamon
Wild Berry Maple Syrup, recipe below
In a food processor or blender, add eggs and pulse to beat. Next, add
cottage cheese, banana, and sweetener, processing until cottage
cheese is smooth.
Add the oats, baking powder, vanilla extract, and cinnamon. Process
until well combined.
Heat a flat skillet or griddle over medium heat. Coat skillet with nonstick
cooking spray, or with a teaspoon light butter spread. Using a large
spoon, ladle, or cookie scoop, pour in about ¼ cup of batter for one
pancake.
Cook each pancake about 2-3 minutes per side, until done. Serve with
Wild Berry Maple Syrup. Enjoy!
Wild Berry Maple Syrup
1 cup light or sugar-free maple syrup
1 cup frozen triple berry mix
Heat berries in the microwave for 1 minute to fully thaw. Add in maple syrup, and microwave another minute, until warmed. Pour in a serving vessel.