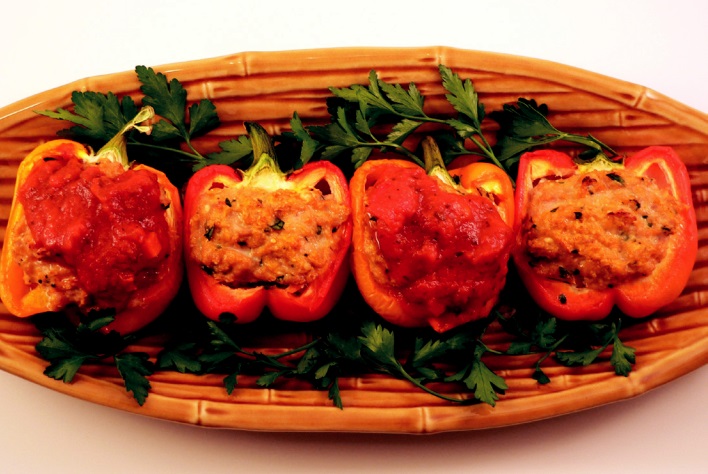 ITALIAN BELL PEPPERS
This recipe is like a big meatball stuffed in a delicious vegetable instead of carb-laden pasta!
1 small onion, grated
1 egg
¼ cup chopped fresh Italian parsley leaves
3 tablespoons ketchup or tomato sauce
2 cloves garlic, minced
1 teaspoon salt
¼ teaspoon freshly ground black pepper
¼ cup grated Parmesan cheese
¼ cup quick "one minute" oats
1 pound lean ground turkey
4 bell peppers, halved and seeded (any color bell pepper is good!)
½ cup marinara sauce (optional)
Preheat the oven to 375 F. Spray a 9×13 inch baking dish with nonstick cooking spray and set aside.
Whisk the onion, egg, parsley, ketchup, garlic, salt, and pepper in a large bowl to blend. Stir in the cheese and quick oats. Gently mix in the turkey until well combined.
Fill the pepper halves with the turkey mixture, dividing equally. Each bell pepper will contain a little more than 1∕3 cup of the meatball mixture. Arrange the stuffed peppers in the baking dish. Spoon 1 tablespoon of the marinara sauce (if using) over each bell pepper.
Bake uncovered until the peppers are tender and beginning to brown, about 40-45 minutes. Transfer the Italian Bell Peppers to a platter and serve.