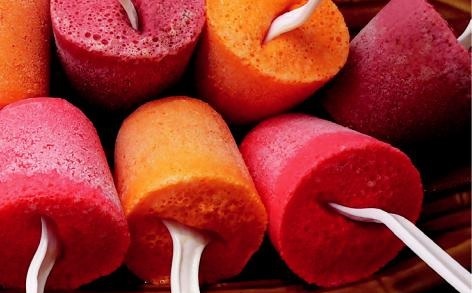 FROZEN YOGURT POPS
A calcium-rich, high-protein, low-cost snack. Who needs ice cream when you have smooth creaminess like Frozen Yogurt Pops around? Never go back to that blood-sugar raising snack attack! These are icy, creamy, and delicious.
1 (.3 ounce) small package sugar-free gelatin, strawberry flavored
1 cup boiling water
1 medium ripe banana
1 cup light vanilla yogurt
1 scoop protein powder (optional, but recommended)
8-10 (3 ounce) small paper cups
8-10 plastic spoons
Carefully pour hot water into blender. Add gelatin and blend until combined. (Remember to remove the cork on the top of your blender so it doesn't explode!)
Add banana and yogurt, blending until smooth and creamy. If using protein powder, add to blender last and process until smooth.
Fill each paper cup almost full with the yogurt mixture. Place cups on a flat surface in the freezer. When pops are partially frozen (somewhere around 30 minutes to 1 hour), insert a plastic spoon into each, positioned so it is sticking straight up. Freeze for four hours, or overnight. When ready to eat, peel away the paper cup!