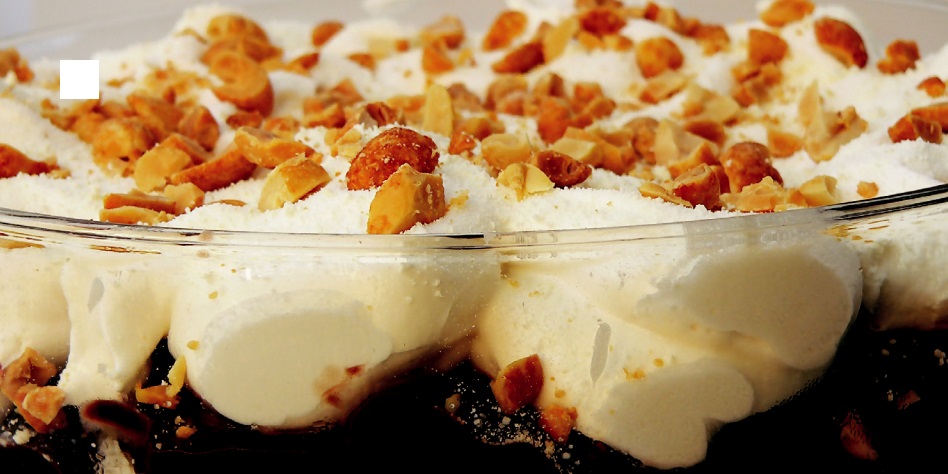 CHOCOLATE PEANUT BUTTER TRIFLE
This dynamic duo is just waiting for you…best of all, it's protein filled!
Those you serve it to will never know that it's topped with nonfat dried milk, or that this dessert is guilt-free.
1 sugar-free angel food cake (premade)
2 (1.4 ounce) packages sugar-free, fat-free chocolate instant pudding
4 cups skim or 1% milk
½ cup peanut butter
8 ounces sugar-free frozen whipped topping, thawed
¼ cup roasted peanuts, chopped
¼ cup nonfat dry milk
Break up angel food cake into chunks using your hands. Place half of
angel food cake in bottom of glass trifle bowl or a 9×13 inch glass pan.
In a medium bowl, beat pudding mixes with milk for about 3 minutes.
Beat in peanut butter until well combined. Spread ½ of the peanut
butter chocolate pudding evenly on top of angel food cake.
Then spread ½ of whipped topping over pudding mixture.
Create another layer using the rest of the angel food cake, then
the second half of the chocolate pudding. Top with the rest of the
whipped topping.
Sprinkle roasted peanuts and nonfat dry milk on top. Refrigerate for 1
hour. Serve chilly!