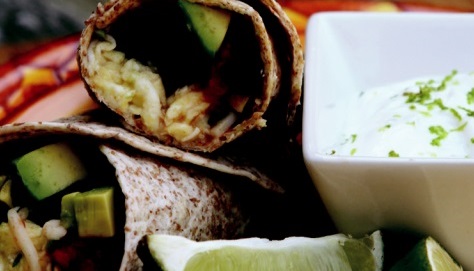 BLACK BEAN AND AVOCADO BREAKFAST BURRITO WITH LIME CREAM
This high protein, low-carb breakfast will set the stage for a highenergy day.
1 egg plus 1 egg white
1 tablespoon shredded white cheddar or provolone cheese
1 tablespoon chopped fresh cilantro or parsley
2 teaspoons your favorite salsa
1 tablespoon canned black beans, drained and rinsed
2 teaspoons freshly scooped avocado
1 low-carb, high-fiber whole wheat tortilla wrap
1 tablespoon lime cream, recipe follows
In a small skillet sprayed with nonstick spray, scramble the egg and egg
white on medium heat. Season with a little salt. When eggs are almost
done, add in cheese and parsley or cilantro. Place eggs on tortilla. On top
of eggs, add salsa, then beans, avocado, and lime cream. Roll up "burrito
style" and enjoy immediately!
Lime Cream
¼ cup light sour cream or 0% fat
Fage™* Greek Yogurt
zest and juice of ½ lime
¼ teaspoon salt
In a small bowl, whisk all ingredients. Salt to taste. Use as a dip, or as a condiment for soups and stews. Store in the refrigerator