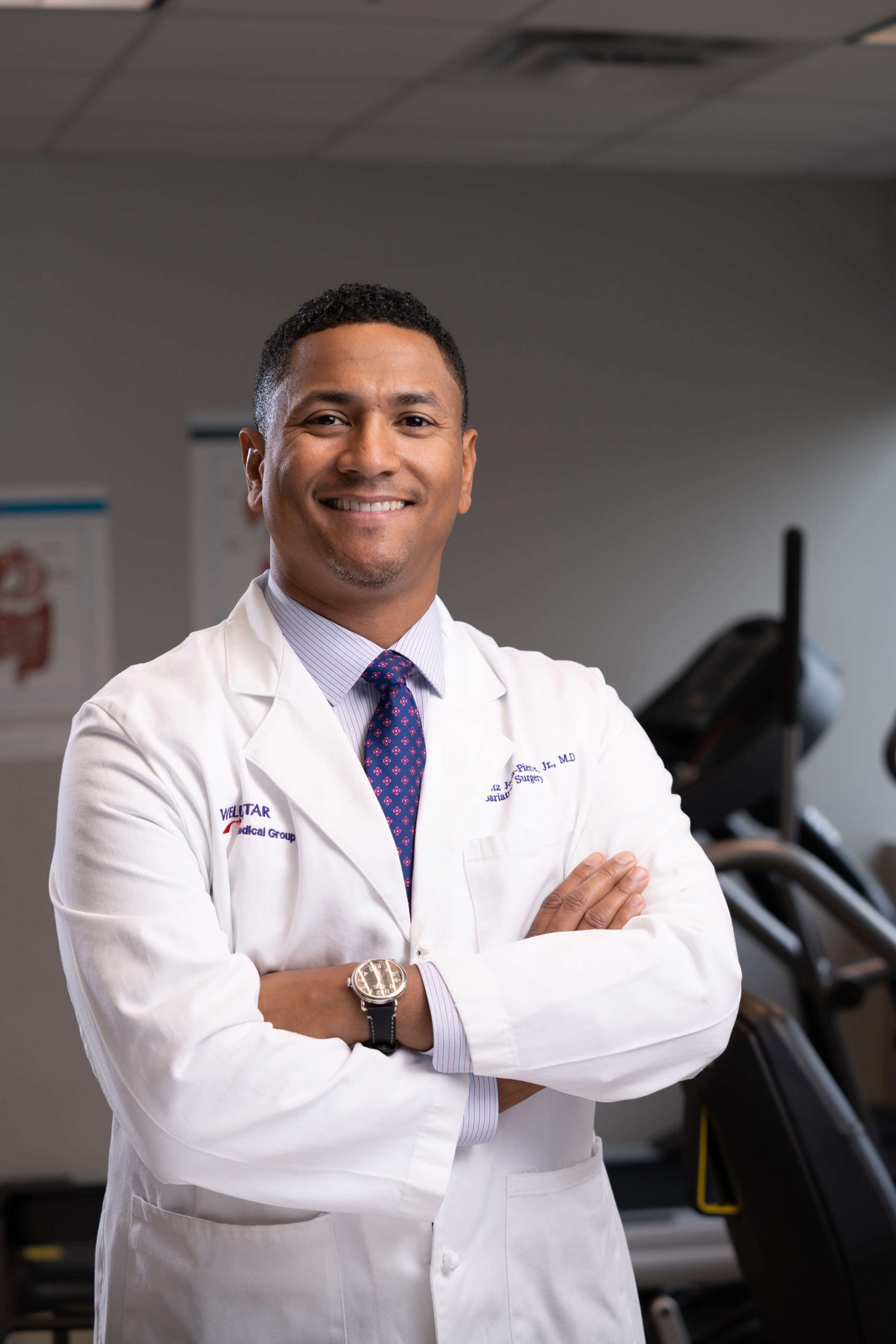 Dr. Fritz Jean-Pierre, who is best known by his patients and staff as Dr. JP, has transformed the interaction between practitioners and their patients. With his caring attitude and his engaging demeanor, Dr. JP considers all staff members and patients at WellStar's Kennestone Hospital family.
A leader in his field
Dr. JP, who is now the Chief of Surgery at Kennestone Hospital, has worked in the bariatric field for eight years. He was drawn to medicine at a young age because his family has a background in medicine. Dr. JP was fascinated and drawn to the technical aspects of surgery. When he was attending Chicago Medical School, Dr. JP worked with many of the pioneers in surgery. This was the beginning of him becoming an expert in minimally invasive surgery, including robotic surgery.
After his general surgery training in Chicago, Dr. JP began his fellowship with a concentration in bariatrics at the Morehouse School of Medicine through Atlanta Medical Center. Unlike other medical professionals, Dr. JP is adamant in the belief that chronic obesity is a disease rather than a result of poor lifestyle choices. By addressing chronic obesity as a disease, Dr. JP is able to give his patients the care and respect that they deserve. This ultimately results in a better relationship between him and his patients and outstanding results.
At this core, Dr. JP loves a challenge. He became an expert in robotic surgery because of the challenges it addresses. In addition, robotic surgery lead to better outcomes and overall was safer for his patients. Learning the new techniques was a challenge that he eagerly accepted in order to be a better surgeon, not only by his personal standards but for his patients. To push himself further, Dr. JP is also part of a research collaborative for robotic bariatric surgery.
Dr. JP is highly qualified and pushes his team to pursue new opportunities to expand their area of expertise. He is a fellow of the American College of Surgeons and the American Society of Metabolic and Bariatric Surgeons. He is part of the WellStar leadership academic program which helps physicians become better leaders in the field of medicine.
Personable in addition to highly-qualified
Dr. JP lovingly jokes that he's not the smartest doctor in his family. In fact, he would say that title is held by his wife. Dr. JP has three young children who he loves to play soccer, basketball and softball with. In his free time, Dr. JP supports his alma mater the Florida Gators and enjoys watching an intense soccer match. He is also an avid cook and calls himself the personal chef of his household. He enjoys experimenting with new cooking techniques and incorporating intense spices and flavors into his dishes. His signature dish is his seafood paella and his decadent crème brûlée.